All the great qualities of Classic Style Jollys plus:
Advanced sole pattern for secure footing
Insoles hollowed-out under heel for better control
Increased headroom for your toes
Closer fit around ankle to reduce entry of gravel
Heel 7/8" lower for stability
Attractive overall pebbled surface with impressed logos
Fashion Jollys Shoes are the ideal shoes for garden and leisure-time. The shell, of 100% CFC-free polyurethane, is light and flexible, yet highly abrasion resistant. They are totally waterproof and suitable for wear under all conditions. Whether it's rainy, snowy or sunny, your feet will always stay dry and clean.
The advanced sole pattern provides secure footing, whatever the underfoot surface. The tread design insures that even hard-packed dirt will be dislodged by the flexing of the sole while you walk.
Fashion Jollys Shoes are quickly slipped on and off without bending and are especially convenient when it's necessary to leave the garden, work-place or playingfield for phonecalls or other interruptions.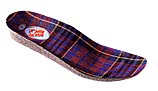 The Fashion Insole
COLORS AVAILABLE
Women's Hunter Green, Navy Blue, Red, Yellow, Black, Brown
Men's: Hunter Green, Navy Blue, Black, Brown
PRICES*
Women's-$55.95 Insoles - $18.00
Men's - $55.95 Insoles - $18.00
* Add 7.75% for CA addresses.


SATISFACTION GUARANTEED!
Return unworn within 30 days for refund except S&H. One exchange for size is OK if returned postpaid. (We'll send replacement postpaid.)