Garden Clogs (open-heel) are like outdoor slippers. Jollys Garden Clogs are imported from Germany. They have been the trendsetters among all-weather clogs for over 25 years! These comfortable, brightly colored garden clogs have been discovered by millions of devoted friends. Whether you prefer the Classic Style with it's traditional "wooden shoe" shape. Or the Fashion Stlye with it's modern shape and advanced sole pattern for secure footing... there's no end to the occasions where you can wear your Jollys Garden Clogs.
Working in the garden, mowing the lawn, or just strolling around the neighborhood... Inside or out, rain or shine, with Jollys Garden Clogs you're always ready to go. Jollys Garden Clogs are easy-on, easy-off, easy to clean, and nearly indestructible. They are the perfect all-weather clog for the entire family. Jollys Garden Clogs - the practical way to protect your feet.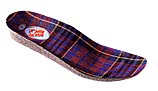 The Fashion Insole

The Classic Insole
Garden Clogs by Jollys are light, flexible, waterproof, and extremely comfortable. The secret is the removable orthopedic insole, made from natural materials. We suggest that you wash the insoles periodically...or you can purchase new insoles online here!
Garden Clogs Colors Available
Women's: Hunter Green, Navy Blue, Red, Yellow, Black, Brown
Men's: Hunter Green, Navy Blue, Black, Brown
Women's CLASSIC Clogs - $49.95
Women's FASHION Clogs - $55.95
Women's FASHION-PICTURE Clogs - $53.95
* Add 8.00% for CA addresses.